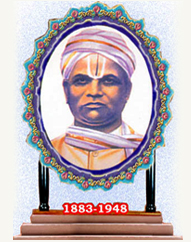 Our munificent donor Thiru C.Kandaswami Naidu had every reason to be proud to be an achiever resulting from his untiring efforts, hardwork and sincerity. He was born in 1885 in Kalvoi Village in the erstwhile Chengalpet District to Shri Lakshmiah Naidu and Smt.Kanniamma. He was named after the presiding diety of his place Lord Kandaswami inspite of being a Vaishnavite.
To meet the challenges of life the family had to migrate to Chetpet in Chennai where the father with his son worked in a brick kiln. Kandaswami's zest for rise and growth enabled him to learn ornamental and relief work in masonry. But the sudden demise of his father shattered Kandaswami. It was very difficult to fight against the difficulties and adverse circumstances but his employment under Thiru Calavala Cunnan Chetty and Ramanuja Iyer helped him to reach a reasonable competency and retain a decent reputation for good workmanship.
Kandaswami's experience earned under Namperumal Chetty, financial support rendered by his father-in-law, his honest work and self reliance motivated him to found a brick-kiln at Koyambedu and accept small contracts. One such was the excavation of earth for putting up the Pachaiyappa's Hostel Building at Chetpet.
His efficiency in getting organized labour earned him many assignments and his manufacture of bricks made good profits. Out of his sustained efforts he acquired a large number of properties.
In 1948, due to serious illness, he was compelled to make his last will. It was drafted by his advocates Pais Lobo and Alvares under the suggestion of Thiru K.Venkateswami Naidu, the then Trustee of Pachaiyappa's Trust . The will was signed on 21st May 1948 just two days before his death, in the presence of Thiru A.K.Muthuswami, Advocate.
Under the will, late Kandaswami Naidu bequeathed and entrusted the residue of his vast estate to the charities of Pachaiyappa's Trust directing the Board of Trustees to utilize the amount for maintenance and development of the institution. The Board was empowered for making any endowment with official trustee as the executor of the will Dr.A.Venugopal,M.S.,FRCS., the then President of the Trust Board of Pachaiyappa's Charities, resolved on 25th April-1967 to create an endowment by starting two colleges in the name of testator one for Men at Chennai and other for Women at Cuddalore from the academic year 1967-1968. The Honourable Justice Thiru T.Ramprasad Rao, through his judgement on 14th May 1967 directed the Official Trustee to offer security to the University for a sum of Rs.4 lakhs and also advance loan of six lakhs for the construction of buildings for the proposed colleges thus leading to the establishment of C.Kandaswami Naidu College for Men, in 1967 at Chennai.
The College is a unit of Pachaiyappa Charities catering education to thousand of students. Pachaiyappa Mudaliar, the father of charities, was a munificent man of learning and religion. His was a remarkable career of a self made man who, though born and brought up in poverty, rose by his own force of character and genius to be the richest man of his time. He amassed a huge property dint of unexampled commercial acumen, always regulated by honesty and fairness but finally gave away all his riches for the services of God and humanity.
After his death, the control of the endowments and educational establishments became vested by law in the Board of Revue and a body of Hindu Trustees was created to administer the whole of the charities and carryout the benevolent initiation of the testator. At present six colleges, and schools are managed by the charities in Chennai, Kanchipuram, Cuddalore and Chidambaram. These development have augmented away and landable place in the cultural life of South India for over a century.